Images: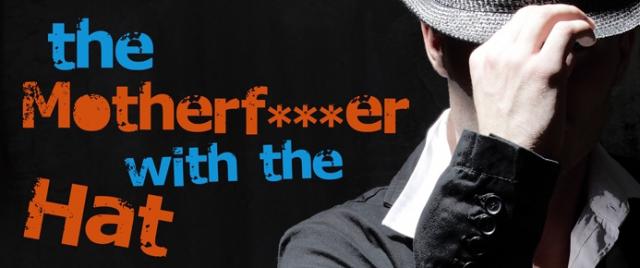 Company/Producers:
Florida State University - Asolo Conservatory
Theater:
Florida State University Center for the Performing Arts - Cook Theater
Review:
Despite its laugh-raising verbal virtuosity and often over-the-top characterization, Stephen Adly Guirgis's play with the title that couldn't be advertised is serious business. Everyone in it is seriously addicted, though comically expressing their inadequacies as they cope with them, or at least try to.
John Wilson Bennett's head-in-the-clouds clod Jackie, on probation from a New York slammer and now dependent on AA, has won a job. On a high, he rushes with flowers and gifts to give Veronica. She (Sara Lllinares, attractive though a sniffing smart-ass) has just finished a phone call to her druggie Ma insisting she dump her loser lover.
Veronica's in the shower shaking off her mood when Jackie sniffs another man's scent on their bed sheets and sees a hat, not his, on the clothes rack. So the romantic date's off and so is Jackie—on the trail of the MF-Hat-Leaver and to see his AA sponsor Ralph D. (smooth Lawrence James).
Ralph's cocky, profane, and addicted to acting as a man with all the answers. In reality, he's well revealed as a misanthrope by wife Victoria (DeAnna Wright, nicely near normal). He's eventually going to be violent with Jackie, who loses both fight and aspirations.
To set off both couples, Jackie's gay but traditionally married Cousin Julio (Matthew Kresch, just right for the role) appears to be fairly well adjusted, a braggart but openly so. He supplies info on Jackie's background and tells of his own reformed fixation on sex. In his hints at relevant recent activity, he may be revealing he's the play's titled man.
Director Celine Rosenthal uses frantic pursuit of the now hatless one to quickly pace the development of relationships, especially Jackie and Veronica's. They're supposed to be typical of the multi-racial, purposeless, loser-type inhabitants of a careless urban world that doesn't give a fuck about them. Without abundant profanity, they wouldn't be able to speak, yet with it, they don't ultimately have effective mutual communication.
So does the guy in the title have a point? Is the dialogue just the blah-blah-blah of the addicted? Is the hope the central couple has eternal or is it infernal? Given the uncertainty, the work of the actors in this production certainly deserves an A.
Cast:
Sara Linares, John Wilson Bennett, Lawrence James, DeAnna Wright, Matthew Kresch
Technical:
Set: Tech Director, Production Mgr: Chris McVicker; Costumes: Sofia Gonzalez; Sound: Alex Pinchin; Vocal Coach: Patricia Delorey