Images: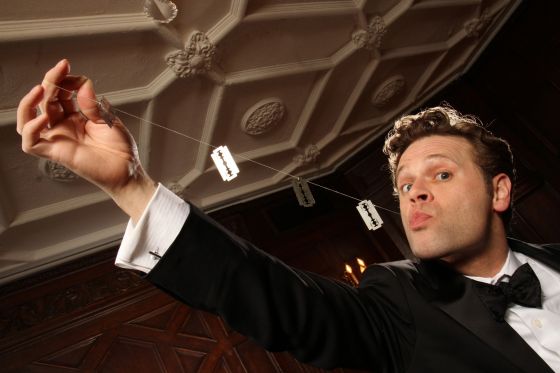 Review:
When we speak of "fooling" people, the term is usually associated with manipulation in service of personal gain at the expense of innocents. ("Fool me once, shame on you" runs the adage.) The concept of deception as amusement has waned as our universe grows ever more complex and untrustworthy, reducing the spiritual security necessary to comfortably confront unexplainable events.
What distinguishes the foolery practiced by stage magician Dennis Watkins is his willingness to provide his audiences that security, proclaiming, "The point is not to fool [your audience], though fool them you must, but to awaken in them a sense of wonder." This ethical creed—handed down from his uncle and grandfather, both themselves magicians—was evidenced in Watkins's award-winning portrayal of the legendary Harry Houdini at House Theatre of Chicago, and for the last eight years, in his solo show, The Magic Parlour, at the sumptuous Palmer House Hilton, performed in a pristine upstairs room under the eyes of a close circle of perhaps 50 spectators.
Within this intimate arena, the slight-of-hand artist explains how his humble beginnings led him to pursue, not elaborate Vegas-styled feats of illusion, but legerdemain utilizing equipment no more esoteric than a deck of playing cards dispatched on stealthy errands, or perhaps a mall-rack paperback novel exhibiting uncanny narrative compliance. A few locked containers may make an appearance, but wayward objects are mostly sequestered in pockets, whether ours or his. Only one stunt employs large-scale tools—specifically, a gravity knife (kept safely distant from nervous bystanders) and a leaf blower used to inflate a body-sized balloon.
"If 500 people see you put a body in a box and saw it in half with a sword," Watkins' mentors cautioned him, "they assume that—well, it's a special kind of box." Heeding their advice, Watkins is more inclined to focus his attention on, say, asking playgoers to write their names on a scrap of paper, which he then shreds and makes whole again in full view of the authors. This minimalist approach is what continues to draw overflow crowds of downtown guests and staycationers alike, all eager for an opportunity to share in 90 minutes of dazzling risk-free sorcery with their host's assurance that the key to the miracles occurring barely arms' length away lies solely in their own imaginations.
Miscellaneous:
This review first appeared in Windy City Times, 1/18