Images: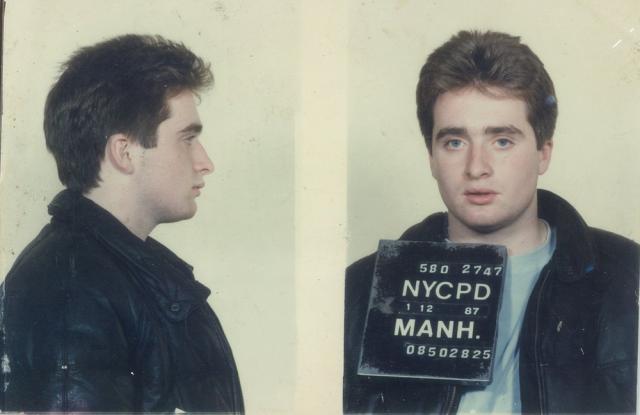 Theater Address:
6201 Santa Monica Boulevard
Review:
To watch Jerry Dean's My Father's a Cop is to take a walk on the wild side.
Dean, born in the West Village, the Irish-American son of a NYC cop and an alcoholic mother, tells his life story in the Los Angeles premiere of his solo play. And what a life it has been, shot through with darkness, violence, crime, drugs, insanity, and incarceration.
In the course of his brutally honest, bluntly told monologue, Dean digs deep into his past and, with the aid of video projection and still photography, makes it come alive on stage. This is not to say, though, that My Father's a Cop is all bleakness and grimness. Ex-con and brawler that he was, Dean also had a creative side, one that led to a career as a screen and TV actor. His good looks and magnetic personality enabled him to work as a model as well—and bed some beautiful and semi-famous women (such as Peter Sellers's daughter).
Growing up in a tough neighborhood whose heroes were boxers and gangsters, Dean's life in crime began when he was ten and he learned how to rob houses. Then he got into extortion, holding up brothels and crack houses, working various cons. Each time he got arrested, he'd mention his father's name, a ploy that sometimes spared him some jail time—or at least a police beating.
Joe Dean, now a retired and decorated detective, is a strong presence in his son's play. His taped testimony is interjected throughout Jerry Dean's recollections, making for a welcome change of pace and perspective. Joe Dean's abiding love for his problem child is a remarkable thing. Considering just how awful Jerry was, it would have been easy for the father to have rejected him. Instead, he stuck by him, did what he could to keep him out of trouble, help him when he was in a jam. The man is a father to end all fathers.
What of Jerry Dean today? After decades of jail time, nervous breakdowns, and psychiatric wards, he has been able, with the help of drugs like Lithium and Cyprex, to stabilize his life, tamp down his demons, and find the discipline and strength to bring off a solo show (one of the most difficult things in the world).
Jerry Dean's self-portrait of a man coping with the twin forces of creation and destruction is a stunning one. And the revelation that he has been sober for the past ten years is an uplifting one.
Technical:
Set & Lighting: Raymond King Shurtz