FOR OUR NEW WEBSITE, PLEASE VISIT: performingartsinsider.com
FOR 72 YEARS,
Performing Arts Insider
has been the leading source of information
about the performing arts in
New York City and around the country.
Each hardcopy issue of PAI includes
day-by-day calendar listings
and comprehensive theater guides of shows
ON BROADWAY, OFF &
OFF-OFF-BROADWAY, plus DANCE, OPERA, CABARET, AWARDS & SPECIAL EVENTS!
Turn to PAI for all the creative, technical and box-office details for every show on the stages of New York.
Plus:
contact information for producers, press agents, general managers and casting directors. Not only that, PAI offers
rumors
on upcoming big shows
, annual season previews,
and other special, useful and enjoyable features.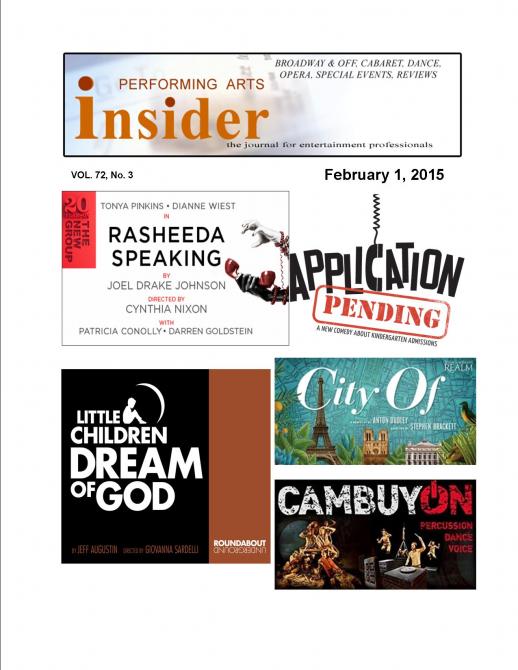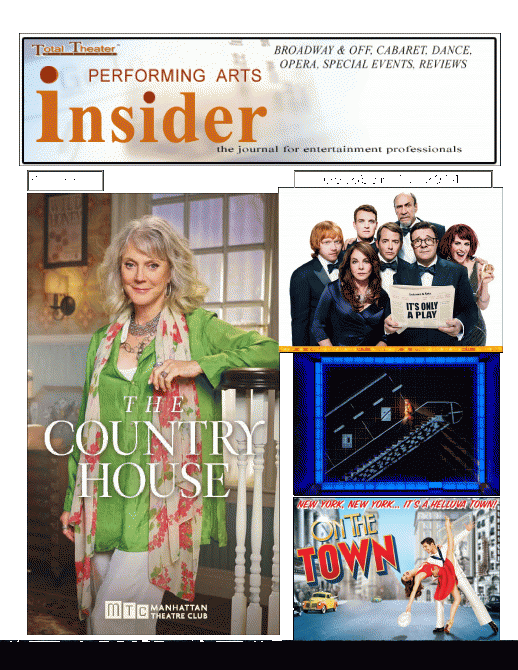 ****
See the bottom of this page for sample listings and content -- just as they appear in
every issue
of
Performing Arts Insider!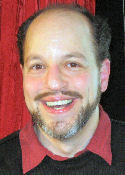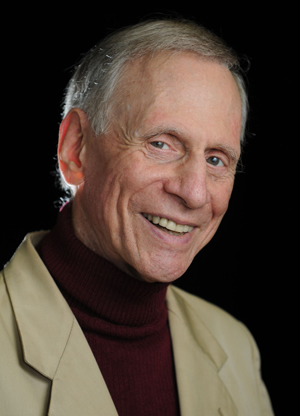 PAI's editor-in-chief, Dave Lefkowitz (left), is the founder of TotalTheater.com and former managing editor of Playbill.com. Co-publisher Richmond Shepard (right) has been a respected producer, director, performer and theater owner for more than half a century. Together, they bring more than 80 years of experience covering theater from the inside - to the Insider.
PAI is a must
for anyone working in the theater, covering the theater for print or media, or for anyone who simply loves the theater and
wants the inside scoop!  But don't just take our word for it:
"Performing Arts Insider is a goldmine of information for the theater professional. I refer to it regularly." Tom Creamer, Dramaturg, Goodman Theater
"As doctors use the Physician's Desk Reference, as attorneys use Westlaw, I use my Performing Arts Insider. It's all the facts at your fingertips." Sherry Eaker, former editor-in-chief, Backstage
*******************************************************
SUBSCRIPTION INFORMATION
Performing Arts Insider is published 21 times per year, with 12 monthly issues and 9 mid-month update issues during the busy season.
Standard annual subscription rates:  
Full Season (21 issues) $310
or
Monthly (12 issues) $190
Current, valid members of theatrical unions such as Equity, SAG, AFTRA, the Drama Desk, Outer Critics Circle, American Theater Critics Association, WGA and Dramatists
 Guild receive a 15% discount off the above rates!
Expensive?  Yes.  But comparable to other guides - even websites - that aren't nearly as comprehensive, and for the price of a couple of theater tickets, you
 get a year's worth of information and enjoyment -- all for much less than $1 a day!
To SUBSCRIBE to Performing Arts Insider:
For the

FULL SEASON (21 issues, $310)

or

MONTHLY (12 issues, $190)

subscriptions:
Just
send check or money order,

made payable to: TotalTheater
and send to: PAI c/o TotalTheater, P.O. Box 31, Greeley, CO,
80632-0031, USA
Major credit card? Use

Paypal,

to the screenname: HOLVOE_ at _AOL.COM.


For a copy of the
CURRENT ISSUE
of Performing Arts Insider:
Send $15, via check or money order, made payable to: TotalTheater

and send to: PAI c/o TotalTheater, P.O. Box 31, Greeley, CO,
80632-0031, USA
Major credit card? Use

Paypal,

to the screenname: HOLVOE_ at _AOL.COM.
To advertise in PAI:
please contact Joyce at 970-304-4077 or paipress_at_aol.com

Questions? Contact Information:
write to: paipress_at_aol.com
or to PAI, c/o
TotalTheater
, P.O. Box 31,
Greeley, CO, 80632-0031, USA.
More information: www.PerformingArtsInsider.com

To have your production listed in PAI:
Email press releases and invitations to: totalpost_ at_ TotalTheater.com (attached files in MSWord only, please).
Snail-mail press kits and CDs to: Editorial, PAI, Box 31, Greeley, CO 80632-0031.
Deadlines are the 1st & 16th of each month.
Performing Arts Insider is a TotalTheater publication, (c)2014
Publishers: Richmond Shepard & David Lefkowitz
Editor-in-chief: David Lefkowitz
see below for sample listings
 SAMPLES
Curious about the content of Performing Arts Insider?
Here are sample, abridged columns (from our archives) of the type that appear in every issue of PAI.  For the current issue, send $15, check or money order, to: TotalTheater, P.O. Box 31, Greeley, CO 80632-0031.

GUIDE: Broadway - Current

SHOW & CREDITS
PRODUCER / PRESS
VENUE
DATES

BOOK OF MORMON, THE


MUSICAL. Book & Score: Robert Lopez (lopezmarx.com), Trey Parker (Agt: WME: 212-903-1100) & Matt Stone; Dir: Trey Parker & Casey Nicholaw; Choreog: Casey Nicholaw (caseynicholaw.com; Agt: WME 212-903-1148)
Set: Scott Pask (1 Union Sq W, #711, NYC 10003. scottpask.com; Agt: Rolfe Co: 212-757-6756); Cost: Ann Roth; Light: Brian MacDevitt (c/o UMD 301-405-6643; bmacdld@ aol.com); Sound: Brian Ronan; Orch: Larry Hochman (Lh@ larryhochman.net) & Stephen Oremus.
Casting: Carrie Gardner: 231 West 39 St, #1200, NYC 10018.
Cast: Andrew Rannells, Josh Gad, Scott Barnhardt, Darlesia Campbell, Lewis Cleale, Asmeret Ghebremichael, Nikki M. James, Rory O'Malley (Agt: Gage Grp 212-541-5250), Lawrence Stallings.
Plot: Mormon missionaries find themselves in dangerous Uganda.
Notes: Parker & Stone created TV's "South Park." Lopez co-wrote Avenue Q.


AWD

: 2011 NYDCC: Musical. 2011 OCC: Musical, MusActor (Gad), MusDir, Score. 2011 Tony: Musical, Book, Score, DirMus, Orch, FeatActressMus (James), SetMus, LightMus, SoundMus.
CD: Ghostlight.

PROD

: Anne Garefino, Scott Rudin (850 3rd Ave, 15th Fl, NYC 10022; 212-759-6556), Roger Berlind (10 E 53 St, #3001, NYC 10022; 212-888-5220), Scott M. Delman (c/o DGZ 142 W 57 St, 3rd Fl, NYC 10019. 212-965-2379; scott.delman@ dgzcapital.com), Jean Doumanian (595 Madison Ave, 22nd Fl, NYC 10022), Roy Furman (c/o JCP, 520 Madison Ave, NYC 10022. 212-284-1700), Stephanie P. McClelland, Kevin Morris, Jon B. Platt, Sonia Friedman Productions (c/o 321 W 44 St, #703, NYC 10036. 646-695-4726; soniafriedman.com).
Exec Prod/GM: Stuart Thompson 212-768-4610
PM: Aurora Productions
PSM: Karen Moore.
PR: Boneau/Bryan-Brown (Christine Olver): 212-575-3030; colver@ bbbway.com.


GROSS:

$21m (7/17/11). Recouped 11/11.
PERFS: 28p/132r (7/17/11)

Eugene O'Neill Theater

[Juj]: 230 West 49 St.

Prev: Feb. 24, 2011; Op: March 24, 2011; open run
Day-By-Day  - OFF & OFF-OFF-BROADWAY
| | | | | | |
| --- | --- | --- | --- | --- | --- |
|   | DATE | SHOW | THEATER | PR | DETAILS |
|   |  Now | AMERICAN SONG | Flea Theater: 41 White St. | Spin Cycle 212-505-1700 | Limited run |
|   |  Now | AVENUE Q | New World Stages: 340 W 50 | Sam Rudy 212-221-8466 | open run |
|   |  Now | AWESOME 80s PROM | Webster Hall: 125 E 11 St. | David Gersten 212-575-0263 | open run |
|   |  Now | BACHELORS' TEA PARTY | Lady Mendl's 56 Irving Place | Emily Owens 917-408-3677 | To Oct. 28 |
|   |  Now | BAD JEWS | Roundabout - Steinberg: W 46 | Boneau/BB 212-575-3030 | Op Oct. 30 |
|   |  Now | BALCONY, THE | Arclight Theater: 152 W 71 St. | Jonathan Slaff 212-924-0496 | To Nov. 4 |
GUIDE – PRESS AGENTS
(The following list of theatrical press agents and agencies is alphabetized by last name. Information is subject to change, and staff lists are not complete)
Boneau/Bryan‑Brown: 1501 Bway, #1314, NYC 10036. 212‑575 3030.  Staff: Chris Boneau, Adrian Bryan‑Brown, Jim Byk, Jackie Green, Juliana Hannett, Jessica Johnson, Kevin Jones, Shanna Marcus, Aaron Meier, Joe Perrotta (jperrotta@ bbbway.com), Matt Polk, Matt Ross, Heath Schwartz (hschwartz@ bbbway.com), Michael Strassheim (mstrassheim@ bbbway.com), Susanne Tighe, Erin Hinton.  (Annie, Assembled, Big Knife, Cat on a Hot Tin Roof, Chaplin, Cyrano, Dead Accounts, Drood, Enemy of the People, Heiress, Jersey Boys, Mamma Mia!, Matilda, Motown, Nice Work if You, Once, Other Place, Picnic)
*  *  *  *  *  *  *  *  *
 * DINER. Musical. Book: Barry Levinson (Agt: ICM: 310-550-4059) adapting his 1982 film; Music/Lyrics: Sheryl Crow. Dir/Choreog: Kathleen Marshall. Casting: Telsey + Co. 212-868-1260. Plot: Old high-school friends reunite for a friend's wedding. PROD: Base Entertainment (Scott Zeiger & Brian Becker). GM: Charlotte Wilcox Co.: 1560 Bway, NYC. 212-944-6586. ADV: SPOTCo. 212-262-3355. PR: The Hartman Group: thehartmangrouppr.com. Notes: Premieres 10/23-11/18/12 at San Francisco's Curran w/ separate Bway staging targeting April 2013. Workshop held Dec. 2011 w/ Andrew Rannells, Annaleigh Ashford & Colin Donnell. In the writing stage but eyeing out-of-town tryout in July 2012 w/ Bway in Fall 2012 (NYPOST 1/12). Chances: possible.
* FINDING NEVERLAND. Musical. Music: Scott Frankel; Lyrics: Michael Korie; Book: Allan Knee adapting his play, The Man Who Was Peter Pan. Dir/Choreog: Rob Ashford. Plot: In a writing slump, J.M. Barrie is inspired by a woman and her three children. PROD: Harvey Weinstein. Notes: Premieres 9/21/12 at UK's Curve Theatre w/ Julian Ovenden & Rosalie Craig. Industry reading held 3/31/11 w/ Kelli O'Hara, Tony Roberts, Mary Beth Peil, Julian Ovendon, Michael Cumpsty. Knee wrote the book for Little Women. Frankel & Korie scored Grey Gardens.